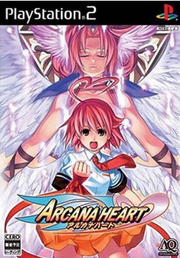 Arcana Heart was the first game in Arcana Heart series. It was originally released in 2005 for the Arcade, then later ported to the PS2 on October 12th, 2006. 
On August 8th, 2008 the game received an English release. However, it had no english voiceovers, instead keeping the japanese - which was considered unique at the time. But, the voices were only kept in the battles and removed from victory screens and story segments. 
Extraordinary rare maiden Heart Aino is sent to investigate the strange matters above the Tokyo Skies after the Ministry of Elemental Affairs notices that someone is trying to break the barrier between the two worlds.
Characters Introduced
Edit
Updates and Patches
Edit
Arcana Heart FULL!
Edit
A patch introduced early on for the Arcade version. It fixed a variety of issues, including toning down overly-powered characters, increasing the strength of the weaker, etc. However, a controvery arose after it was realized that the Patch had been priced; compared to most games, who all released their patches for free.
The Playstation 2 released version of the game was affected by this patch. It allowed players the option of playing characters in the 'original' or 'full' format of the Arcade version. Voice acting was also presented in the story-mode segments.
See in also release date of Bleach Blade Battlers.