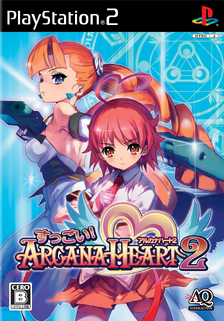 Arcana Heart 2
is the second entry in the
Arcana Heart
series. The arcade version was originally released in 2007, then later ported to the PS2 on 2009 as
Suggoi! Arcana Heart 2
to match the latest version of the arcade port.
Originally, a worldwide release was intended for this game; but due to poor sales outside of Japan, it was later canceled.
A primordial being known as Angelia Avallone has caused a Dimensional Distortion in Kanto. This event is known as the Great Kanto Incident and in this time, the Holy Spirit Institutions suffered harshly.
Characters Introduced in 2
Edit
Suggoi! Arcana Heart
Edit
Updates and Patches
Edit
Suggoi! Arcana Heart 2
Edit
On October 30, 2008 this major update had been released to further balance the game and fix some bugs. It also came with some design changed, like new character illustrations, an additional stage, three new characters alongside their respective Arcana, new color palettes, and a training mode.
Suggoi was also updated to version 2.6 on February 27, 2009. 
This is the only game in the series to not have a release outside of Japan.