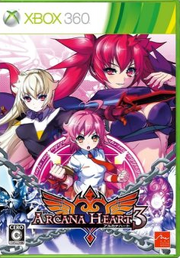 Arcana Heart 3 is the most recently released game in the Arcana Heart series. it has received one updated re-release with a second being worked on as of late. It was originally released for the Arcade on 2009, then for consoles in Asian territory January 13, 2011. America got the game April of the same year, while Europe got it in August.
Two months have gone by since Angelia Avallone attempted to scheme and use the Dimensional Distortion for her plans. In this time, the organization known as Drexler, who previously distributed Demonic Arts throughout Europe during a past War resumed operation all over the world.
After the Secret Branch in Japan had been destroyed they established the branch office 'Rosenberg' in it's place. Following that the Dimensional Distruption was observed by many and rumors regarding the now defunct Drexler Branch began to stir.
In order to resolve these events, the Spirit Agency has dispatched their Sacred Maidens; along with the Rosenberg office. But in their way stands a new foe; a girl posessing the power of Valkyria, a sacred maiden.
Their plans are to make Japan sink into the ocean after six days. 
Characters Introduced in 3
Edit
Six Stars
Edit
Updates and Patches
Edit
Love Max!!!!!
Edit
With rebalanced gameplay, survival mode, and training mode, Love Max was released on May 8, 2013. It gained new ports for release May 29 2014 worldwide for play on PS3 and Vita. 
Six Stars
Edit
The second updated version of the game, it is currently not released.
This game has the least amount of characters introduced
Ad blocker interference detected!
Wikia is a free-to-use site that makes money from advertising. We have a modified experience for viewers using ad blockers

Wikia is not accessible if you've made further modifications. Remove the custom ad blocker rule(s) and the page will load as expected.